Notice: We are currently beyond capacity and can not take anymore cats or dogs. Please help by adopting, donating or becoming a foster home.
Every year thousands of cats and dogs are euthanized. We saved over 150 last year. Please help by adopting, donating or becoming a foster home.

Who We Are/Mission

Adopt-a-Kitty is an all species/breed caregiver to lost, homeless, and unwanted pets that are in need, locally and in nearby surrounding areas, concentrating mainly on cats and kittens. We accept "special needs" pets as well, when in need. In the last 6 years, we have placed hundreds of animals, a good portion pulled from high kill shelters. Our mission in life is to love, care for, and PLACE animals who haven't been given a chance. All pets are tested, spayed or neutered, vaccinated, etc. prior to adoption. We provide a safe haven for our rescued pets to stay until a forever home can be found. Because we are a grassroots organization, we rely on help from the public, adoption donations, and money from our own pockets.

ADOPT-A-KITTY RESERVES THE RIGHT TO REFUSE ANY ADOPTION. ADOPTIONS MAY BE SUBJECT TO A WAITING PERIOD. YOU MUST BE AT LEAST 21 YEARS OLD.

Adopt-a-Kitty

reminds you that a pet is a member of your family and you must consider carefully before you adopt a pet whether you are willing to make the sacrifices necessary to care for the animal responsibly for the rest of its life. With proper care many pets live fifteen years or longer. Please consider the cost before you make the decision to take on the responsibility of owning and caring for a pet. Veterinary care, annual checkups and vaccinations, parasite and flea control and proper nutrition are expensive and you must consider these costs before adopting. A companion animal is a commitment that should last for the lifetime of the pet.

The original Flipper Feeder is back on the market.

Visit our website www.flipperfeeder.info for more information and how to purchase.

.
Home Pets for Adoption Yellow Nape Amazon Adoption Form Past Adoptions Favorites Links
Yellow Nape Amazon Parrot for Sale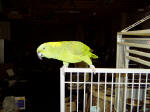 Click on image above for more details